IntelliSIP — Intelligent SIP Trunking — Delivers Enhanced 21st Century Functions and Services to Legacy PBXs While Providing the Most Cost Effective Pricing Model for All Businesses Who Switch to VoIP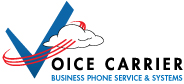 Voice Carrier, a leading provider of VoIP service and systems to businesses of all sizes since 2009, has released a revolutionary, intelligent business SIP trunking product named IntelliSIP™. With IntelliSIP any business can significantly reduce their monthly phone bill, and extend the functionality of their existing PBX with a variety of cutting edge phone services and features.
Voice Carrier's products are offered with a unique pricing model which charges customers by the number of concurrent calls (lines) required, not by the total number of seats / extensions. Since the pricing is based on simultaneous calling, customers' costs are more in alignment with how their organization uses its phone system allowing them to deploy as many extensions as needed while only paying for the number of required simultaneous calls. IntelliSIPs' flat rate pricing includes all fees, taxes and surcharges with no additional usage charges for unlimited calling in the US.
"We integrated Voice Carrier's IntelliSIP trunking product with several of our existing customers' PBX systems, and were extremely pleased with how easy the IntelliSIP product was to 'provision' properly the first time. This included installing some additional functionality and services to specification. We put our stellar 27 year reputation behind the companies that we partner with. As with all of our business partners, we put Voice Carrier through many due diligence tests and they far exceeded our carrier expectations. From our experience, deploying SIP technology can be quite complex, but our experience working with the Voice Carrier technical team and the IntelliSIP product has been exceptionally gratifying," said Mickey Kieffer, CEO of Ameritel, a telecommunications solution provider servicing customers throughout the US, from the Caribbean to the Canadian border.
Voice Carrier currently has certified IntelliSIPs' interoperability with a number of leading business PBX manufacturers, and is in the process of certification with most of the other major PBX vendors. Once certification is complete, customers will have confidence that the interoperability between IntelliSIP and their specific PBX has been thoroughly tested and operates within the vendor's specification for functionality and call quality.
With the Voice Carrier IntelliSIP advantage, your service can always include key features that your current phone system or SIP trunking provider cannot deliver, such as:
Remote Extensions (Anywhere In the World)
Private Conference Bridges
Follow Me (For Remote Employees)
Enhanced Security
Interoperability with a Wide Range of IP Equipment
Unlimited US Calling
Voice Carrier's IntelliSIP trunks can simply replace your current, expensive voice analog lines, T1, PRI, or existing SIP Trunks with our intelligent / enhanced, enterprise-grade VoIP network. IntelliSIP trunks deliver the advantages of the Voice Carrier enterprise grade service without incurring the costs of replacing your existing phones and phone equipment.
"Voice Carrier's unique IntelliSIP pricing, coupled with its ability to extend the functionality of legacy phone systems / PBXs, is a true game changer in the SIP trunking market," said Gary Johnson, CEO and President of Voice Carrier. "We have gained a lot of momentum with our core telephony resellers who have been installing PBXs for a long time. They now have the capability to go back to all those customers and give them a better priced option, along with the ability to expand their legacy phone system with multiple new features. We are already experiencing a significant expansion of this segment of our business, and expect it to increase more dramatically as we roll out IntelliSIP certifications from all of the major PBX vendors."
More at http://voicecarrier.com