Cisco Introduces CloudVerse, an End-to-End Framework to Build, Manage and Connect Clouds, Leading Global Firms Are Adopting CloudVerse to Build Public, Private and Hybrid Clouds and Offer Advanced Cloud Applications


SAN JOSE, CA–(Marketwire – Dec 6, 2011) – Cisco (NASDAQ: CSCO) today introduces Cisco CloudVerse®, a framework that combines the foundational elements needed to enable organizations to build, manage and connect public, private and hybrid clouds. Cisco CloudVerse combines these key cloud elements — Unified Data Center, Cloud Intelligent Network, and Cloud Applications and Services — enabling businesses to realize all of the benefits of clouds: improved agility, better economics, enhanced security and a dynamic, assured experience.
The Cisco Cloud Index, issued last week, forecasts how dramatically clouds are transforming business IT and consumer services. The study predicts that over 50 percent of computing workloads in data centers will be cloud-based by 2014, and that global cloud traffic will grow over 12 times by 2015, to 1.6 zettabytes per year — the equivalent of over four days of business-class video for every person on earth. The study suggests that the explosive growth in clouds requires advanced capabilities that allow the data center and network to work together to support end-to-end cloud application delivery.
Today, most cloud technologies exist in silos, preventing an efficient, integrated management approach. By integrating the three foundational cloud elements — the Cisco Unified Data Center with the Cisco Intelligent Network to enable Cloud Applications and Services — CloudVerse delivers a business-class cloud experience within the cloud, between clouds, and beyond the cloud to the end user.
A large number of enterprises, service providers, and governments are announcing today that they are adopting Cisco CloudVerse as the foundation of their cloud strategies, including ACS, a Xerox Company, Fujitsu, NWN, LinkedIn, Orange Business Services, Qualcomm, Silicon Valley Bank, Telecom Italia, Telefónica S.A., Telstra, and Terremark, a Verizon Company. Today over 70 percent of leading cloud providers are using Cisco CloudVerse on their journey to the cloud.
New for Cisco CloudVerse
Today Cisco is introducing several new solutions within the three core elements of CloudVerse:
Unified Data Center changes the economics of cloud infrastructure by providing a fabric-based platform automating the "as-a-service" model across physical and virtual environments, and designed to scale with business demands by flexibly allocating resources within and between data centers using unified computingand unified fabric. Cisco is also adding new Unified Management capabilities:
Cloud Intelligent Network provides a consistent and highly secure user experience wherever the user is located and across the multiple clouds involved in delivering an application or service. Cisco now adds new "Cloud-to-Cloud Connect" capabilities:
"Cloud-to-Cloud Connect," featuring the Cisco Network Positioning System on the ASR 1000 and 9000 Series Aggregation Services Routers in 2012, will enable dynamic resource identification, allocation and optimization between data centers and clouds.
Cloud Applications and Services enable "as a service" delivery of both Cisco and third-party cloud applications. Several new capabilities are being added to Cisco's Hosted Collaboration Solution (HCS):
Private Cloud HCS empowers enterprises to build their own collaboration cloud using Cisco's validated and tested solution and full management capabilities.
Mobile HCS provides mobile service providers with an easy and cost-effective way to offer collaboration from the cloud, thus extending services from "fixed" devices to mobile phones. For example, providers can virtually connect thousands of mobile users at a company with single-number reach, or enable customers to transition a call from a desk phone to a mobile phone while the call is in progress.
Customer Collaboration makes contact center capabilities more affordable and accessible by adding Cisco Customer Collaboration offerings to HCS. These offerings are available on a limited basis now and targeted for general availability in 2012.
Cisco is supporting CloudVerse with new cloud enablement services, which combine Cisco's professional and technical services expertise with those of a broad ecosystem of partners, allowing organizations to accelerate their cloud success and realize the full potential of cloud.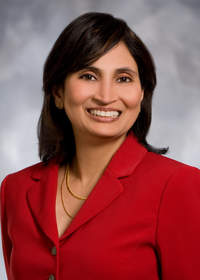 Padmasree Warrior, Cisco senior vice president of engineering and chief technology officer
"Until now cloud technology resided in silos, making it harder to build and manage clouds, and to interconnect multiple clouds, posing critical challenges for many organizations," said Padmasree Warrior, Cisco senior vice president of engineering and chief technology officer. "Cisco uniquely enables the world of many clouds — connecting people, communities and organizations with a business-class cloud user experience for the next-generation Internet. We are very pleased that many of the world's leading businesses and service providers are adopting CloudVerse as the foundation of their cloud strategies, and we look forward to partnering closely with them on their journey to a world of many clouds."
Cisco CloudVerse offers a compelling economic advantage — helping organizations offer business IT-as-a-service and dynamic SMB/consumer services. Moving from a traditional virtualized data center to a CloudVerse cloud can reduce IT total cost of ownership (TCO — opex and capex) by up to 50 percent and reduce the time to offer new cloud services from weeks to minutes.

CloudVerse Adoption
Many leading enterprises, service providers, and governments are adopting Cisco CloudVerse as the foundation of their cloud strategies, including the following organizations, which are announcing Cisco CloudVerse deployments:
ACS, a Xerox Company, Ken Stephens, senior vice president, cloud services
"Like Cisco, ACS, a Xerox Company, believes that there are many opportunities cloud computing provides businesses for advancing their operations and innovating new ways to support their customers. Because cloud is fundamentally rooted in networking, our Cloud Services business runs on Cisco. We run Cisco Cloudverse, which helps us provide a secure, flexible, on-demand IT services for our customers. Cisco's self-service cloud portal and automated orchestration help our customers roll out new IT capabilities faster while reducing the cost of their IT infrastructure."
Fujitsu, Andy Stevenson, executive director of the hosting and network services group "We've combined our experience and expansive network to develop this new hosted offer together with Cisco that delivers the Fujitsu Cloud Connect service, a flexible, reliable and vibrant end-to-end managed solution. Our new service helps employees collaborate more efficiently on any device using a uniform suite of best-in-class Cisco collaboration technology available on demand."
NWN, Mont Phelps, president and CEO of NWN Corporation
"NWN customers want access to collaboration applications that are easy to scale, affordable and secure, and in partnering with Cisco, we are able to address these issues."
LinkedIn, Sonu Nayyar, director product operations
"Cisco's ASR 9000 Aggregation Services Router has helped LinkedIn to rapidly scale access to our next-generation data center to meet growing bandwidth requirements and ensure the availability of our services. Our relationship with Cisco helps us to maintain our industry-leading reputation, reduce infrastructure costs and is integral to our continued success."
Orange Business Services, Vivek Badrinath, senior executive vice president of France Telecom-Orange and CEO of Orange Business Services
"At Orange, we see cloud computing from the end-user standpoint, encompassing datacenter and network infrastructures for a seamless customer experience. Being a network operator with the world's largest seamless network and, at the same time, being a leading cloud computing and IT service provider, we offer an end-to-end, secure cloud experience. During our long-standing relationship with Cisco, we have worked on building robust network and cloud computing foundations, with services such as Hosted Collaboration Solution, vBlock and Scansafe. Our Flexible 4 Business alliance, with Cisco, EMC and VMWare, is a continuity of our unique value proposition and is paving the way for easier cloud computing adoption. We anticipate working closely with Cisco to provide multinational companies the variety of clouds they will adopt, as mixing clouds will be a key trend going forward."
Qualcomm, Norm Fjeldheim, senior vice president and chief information officer
"Working with today's leading global device manufacturers in a fast-paced industry like mobility requires a flexible and intelligent IT infrastructure. Cisco's cloud intelligent network provides us a high level of flexibility and performance, enabling our team to meet the increasingly complex needs of Qualcomm's growing global workforce."
Silicon Valley Bank, Anthony Ong, infrastructure architect
"The goals for our private cloud are to increase IT agility and efficiency for server, network, and storage operations across both physical and virtual infrastructure. We wanted a cloud management solution with self-service provisioning and de-provisioning, including orchestration across Cisco UCS, other existing systems environment, as well as public cloud services. We selected Cisco data center technologies including Cisco Intelligent Automation for Cloud to build our cloud services platform, and we are very pleased with the result."
Telecom Italia, Stefano Nocentini, VP marketing
"Telecom Italia and Cisco have worked closely together over the last year to define the evolution of our cloud strategy. Telecom Italia's Nuvola Italiana strategy, centered on 'the Cloud with the Network inside' and Cisco's CloudVerse strategy, are perfectly aligned. By bundling connectivity and different cloud solutions (private, public, hybrid), Telecom Italia will continue to reinforce the partnership with Cisco to advance Nuvola Italiana."
Telefónica Digital, Carlos Morales, global M2M, cloud and apps director
"Cisco's CloudVerse solution — combining a unified data center with a cloud intelligent network — forms a very powerful foundation for Telefónica to launch it new Virtual Data Center service. CloudVerse integrates the technology that has allowed Telefonica to build, scale and manage clouds and to assure a great cloud experience to the end user. We feel confident that our partnership with Cisco will enable Telefónica's Virtual Data Center service to deliver significant innovations for our business customers and enable Telefónica to become a leading Cloud services supplier."
Telstra, Philip Jones, executive director of data, IP and network applications & services
"Telstra and Cisco have expanded our relationship to include cloud computing as a significant growth opportunity for both organisations. Our investment and experience in providing network-based services at scale is unparalleled in Australia. We are leveraging our market-leading network intelligence and the advanced Cisco cloud platform to deliver innovative cloud services to meet the needs of Australian businesses."
Terremark, a Verizon Company, Kerry Bailey, president
"We're moving to a world where our business customers want to experience services anywhere, anytime on any device. Cisco CloudVerse is architected to help deliver on the promise of cloud by unifying compute, storage and network resources that can be securely and rapidly repurposed and managed on-demand to meet the needs of different customers or applications. These capabilities are fundamental to the cloud and the Cisco Cloud Intelligent Network is purpose-built to help deliver the security, scalability and flexibility we need."
More at http://www.cisco.com