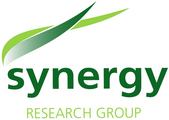 RENO, NV–(Marketwire – Jan 30, 2013) – New quarterly data and forecasts from Synergy Research Group show that UC as a Service (UCaaS) will have a highly disruptive effect on the business voice market, with both traditional telcos and enterprise voice equipment vendors in danger of seeing their market positions erode. Today the penetration rate of UCaaS is only a small fraction of one percent of business voice subscribers, but UCaaS subscribers will be growing by an average 76% per year over the next five years. That is enough to put the installed base of PBX lines into slow decline, and to severely crimp the future growth of telcos' existing hosted VoIP services.
With UCaaS subscriber numbers forecast to grow sixteen-fold over the next five years and UCaaS revenues growing almost as quickly, it is no surprise that the market is attracting a lot of attention. But what is particularly noteworthy is that a group of new market entrants are staking early UCaaS leadership positions. In aggregate RingCentral, 8×8, ShoreTel/M5 and West IP Communications account for 45% of worldwide UCaaS subscribers. Meanwhile traditional telcos (such as AT&T, Verizon, France Telecom-Orange and BT) have been more focused on building up a sizable base of hosted business VoIP users — though some are now gearing up their data centers to provide UCaaS. However, the rapid rise of UCaaS will take a big bite out of future growth prospects for hosted VoIP services.
"While the newcomers have the chance to exploit their early leader advantage, I fully expect telcos to aggressively target UCaaS opportunities in the near term," says Jeremy Duke, Synergy Research Group's founder and Chief Analyst. "Enterprise voice and UC technology vendors will also have to move swiftly if they wish to exploit this market disruption."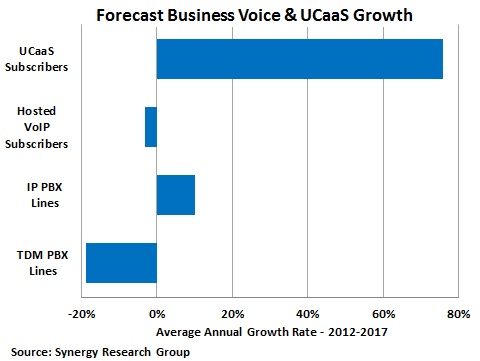 About Synergy's Cloud UC Services research
Synergy's Cloud UC Services research provides quarterly market sizing and segmentation data, including operator revenues by segment and by region. Data is provided via Synergy's uniquely flexible SIA database which enables rapid analysis and provides a range of graphic data presentation options. The research covers UCaaS Business Suite (private cloud, public cloud and premise/hybrid cloud) and UC Standalone SaaS (contact center, videoconferencing and web conferencing).
Synergy Research Group (www.srgresearch.com), a strategic partner of TeleGeography (www.telegeography.com), provides syndicated market research and custom consulting for strategic decision makers in the IT and Telecom industries. For over a decade, Synergy has been providing unique insights and analytics to marketing, business development, and investment professionals.
To speak to an analyst or for more information on receiving a copy of this report, please contact Heather Gallo @ hgallo@srgresearch.com or at 775-852-3330 extension 101.